What are the daily routines aboard the trains?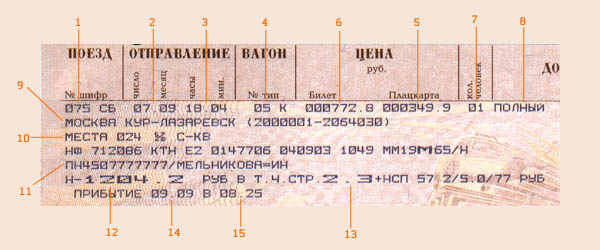 Getting to your train: Your ticket will indicate the train (poezd) number, wagon (vagon) and compartment (kupe). People meeting you will often ask for your compartment and wagon number. Russian trains are long, so it is handy to have someone there where you down. The lower the wagon number, the closer to the front of the train, and the further down the departure platform.
Porters (nosilshchik) expect no less than EUR4.00 in rubles from foreigners for one or two bags. Indulge yourself, because "Wagon Number 1" is a long way down the platform. Agree on a per bag price before they start helping you.
Note: Russian trains leave on time!
The carriage (wagon) and its attendants: Whatever class of travel you choose will result in you having a pair of attendants ('provodnik' (male) or 'provodnitsa' (female)) working in shifts. Shortly after departure, he/she will take your ticket and ask for the small bedding fee – about US$1. Bedding, which consists of two sheets a pillowcase and a towel, is handed out in sealed packs. Blankets and mattresses will already be in your compartment. the attendants small room is at the front end of each carriage, next to the toilets and the hot water boiler (coal fire powered ). Part of their job is to walk along the corridor and make sure everything's in order. They also prepare cups of tea (chai) for 4 Roubles. In addition, they get off at every station and remind passengers (in Russian and hand signals for the tourists) not to stay too long on the platform. For good service, a small tip (EUR1.00 in rubles) at the end of the trip is appropriate.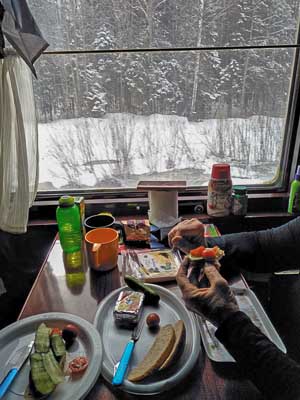 A boiler with unlimited free hot water is available at the end of the corridor. A good idea is to bring your own tea (if you don't think you will like the local brew) or coffee (not supplied on the train), sugar, cuppa soups, drinking chocolates etc. If you do this it is best to have your own cup/mug.
Most long distance trains have a restaurant car serving drinks, snacks, and full meals. Budget on US$12 to US$15 for two courses and a drink or two.
Toilets discharge onto the track, so they  are locked about 30 min. before arriving at stations until about 30 min. after departure.
Life aboard the Trans Siberian is free and easy but there are a few protocols.
All carriages are non-smoking and smokers have to use the connecting passageways between the carriages.
Dressing down is standard; most locals travel in daggy tracksuits and ones with stripes down the legs being the most favoured. But, they are the most practical clothes to travel in along with a pair of slip-into shoes.
In mixed compartments, the men wait in the corridor while women prepare for bed; men change into their nightclothes in the toilets, or the women turn to face the cabin wall.
While you can go to bed and get up anytime, the bottom berth in a four-berth kupe is also seating for two so bear that in mind when you decide to lie in; alternatively ask for a top bunk.
Compartment picnics are shared affairs. Everyone lays out the food they've bought, the vodka does the rounds, toasts are made to international friendships and everyone tucks in.