Russian Railways has introduced a new design for electronic train tickets. It was developed according to the wishes of passengers. The upgraded tickets are more informative and personalised. They contain many pictograms that allow the passengers to quickly find necessary information related to onboard services and other relevant options.
Since early July 2020 passengers travelling on Russian Railways are able to use the new, revamped electronic tickets. They could be purchased via the company's mobile application known as 'RZD passazhiram' ('RZD to passengers' in Russian). The upgraded electronic tickets for, international trains, will be introduced by the end of 2020. We are not certain if this is 100% completed as this relied on synchronisation with foreign train operators – such as Finnish Rail – so ensure those systems produced the same data.
Better usability
The revamped ticket was developed by the Art. Lebedev Studio, a well-known Russian design agency, in line with the wishes of the passengers. "Сlear and convenient". They contain many pictograms that show available onboard services in according to the trains type, or class. There is also a picture that instructs passengers where they are able to place their luggage. This image varies regarding the gender and age of the customer.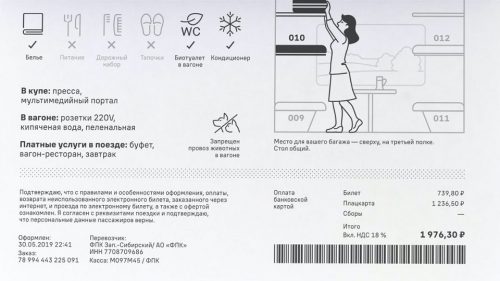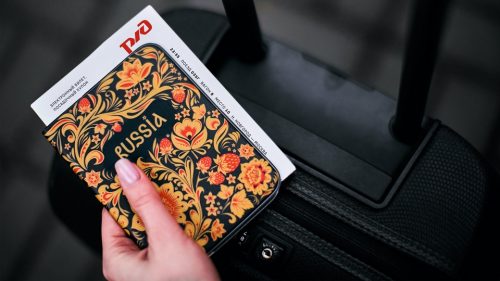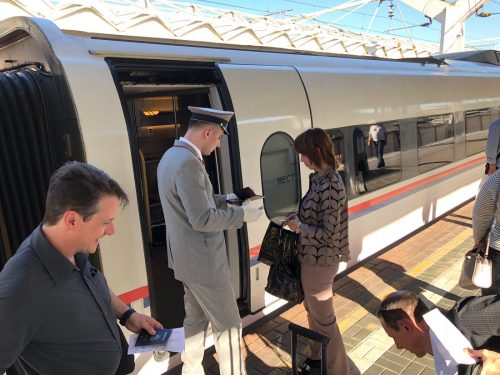 A printed and folded train ticket is placed in a passport. The upgraded tickets also contain the exact address of a train station with the nearby metro stations. This is important for passengers departing from the big cities, which have many stations. There are some features for customers who prefer to print electronic tickets. In this case, the travelling document cam be folded twice or four times to place it in a pocket or passport. At the same time, the main information remains visible (see the picture). This is important when travelling as a foreigner on Russian trains – your passport is always checked against the ticket and your passport details are printed on the ticket. It is much more convenient to present the passport with the printed ticket and not juggle between a device and a passport.
All information on the new ticket is divided into three main blocks: data on a passenger and a trip; data on fare and class of service; instructions for boarding a train. The passenger and journey data (surname and initials, train, carriage and place number, time, date and departure station, address of the departure station) are typed in large print. For international trains, the documents will be issued in two languages: Russian and English. For tickets within Russia they have always had some basic English translations – city names; depart; arrive etc, but now we are advised that you will be able to select a full translation to be printed – we have yet to personally test this J